We could all use a group of friends like Lindsey's group of friends. They commissioned me on her behalf so they could surprise her with a portrait of her beautiful dog Charlie. For no other reason than that they wanted to do something nice for her and she'd mentioned she'd like to have Charlie's portrait painted some day. How sweet is that?!
As with all of my commissions, I've created a process video and documented the stages of bringing this portrait to life. Hope you enjoy!
The Process Video
I received a few photos of Charlie to choose from. I proposed we go with the one below. It had great natural light, a natural pose, and the whole head was the main focus. It only needed a few edits to get it paint ready.
Centered the head. This created a void on the right side so…
Filled in the void created on the right.
Added a warm and cool gradient background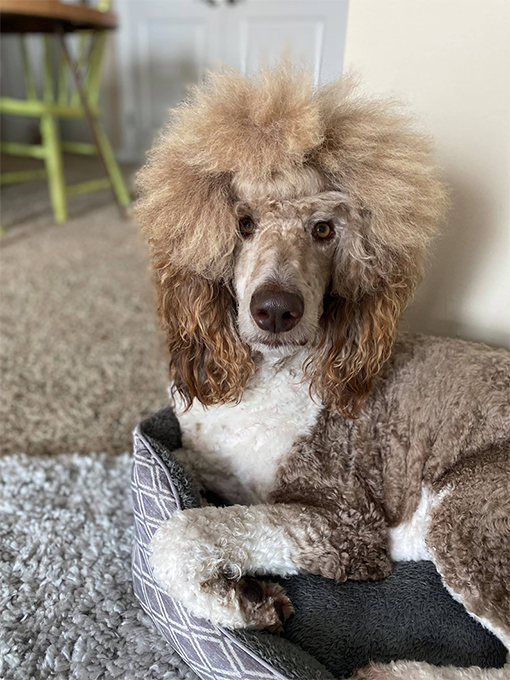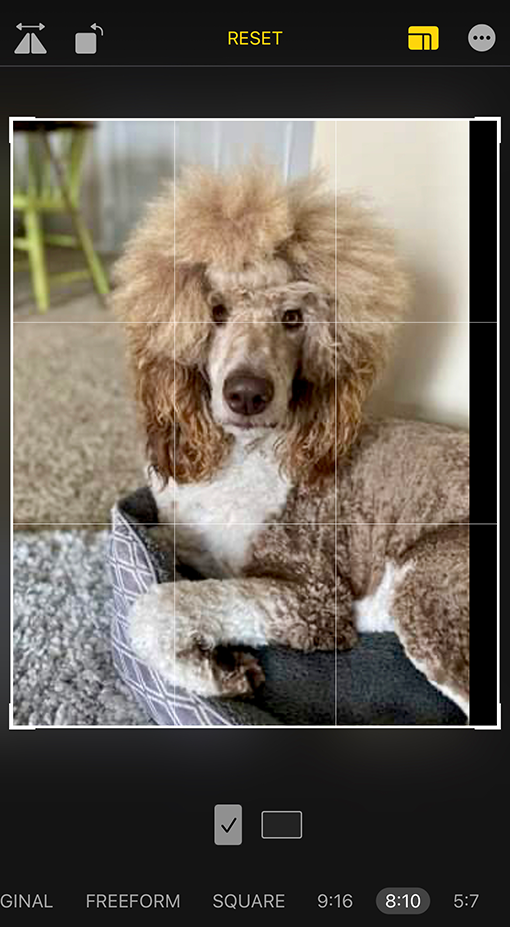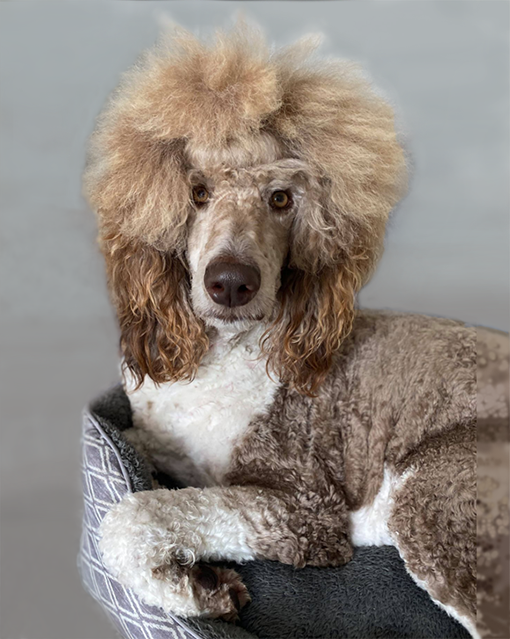 Painting Process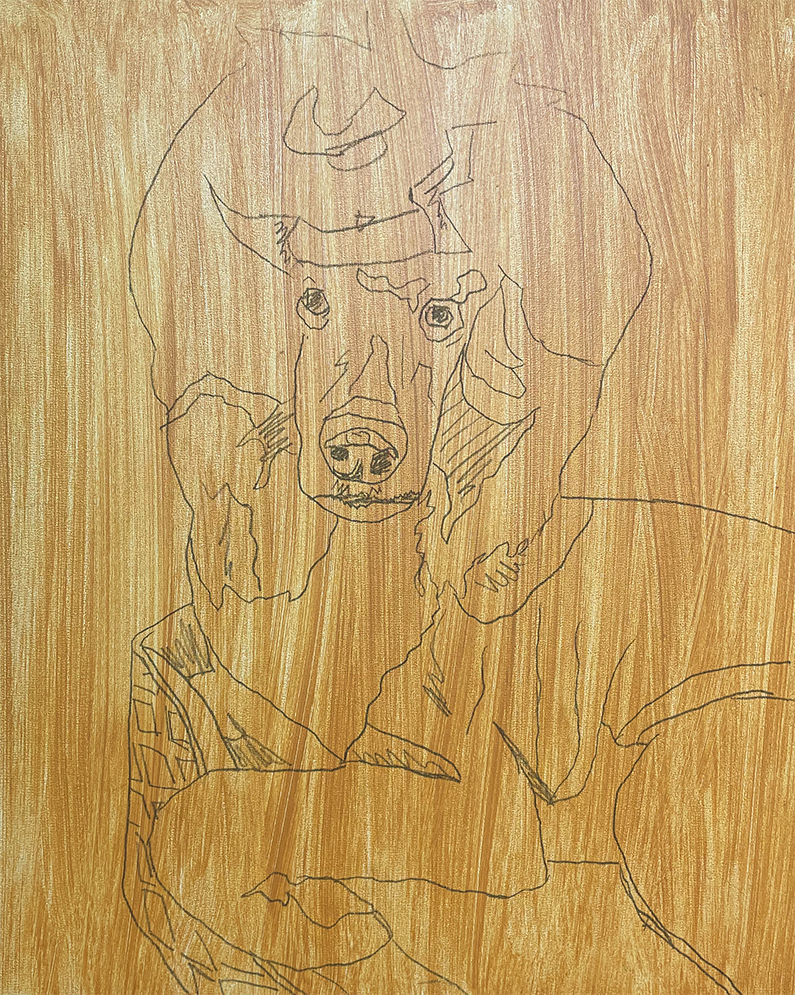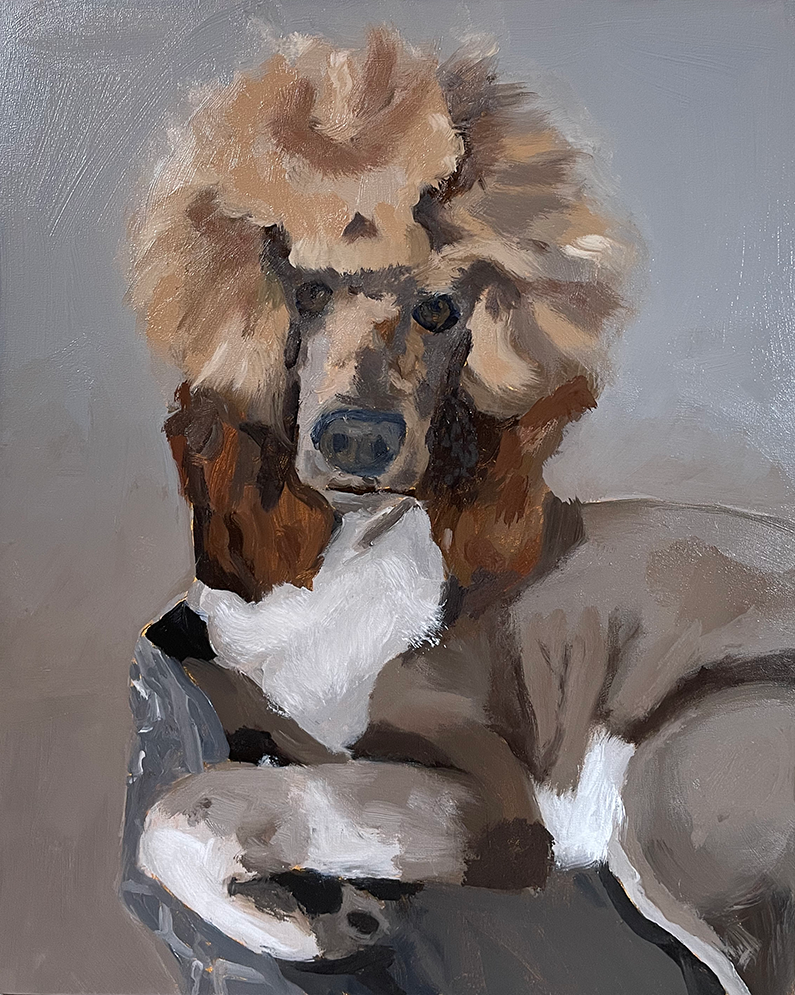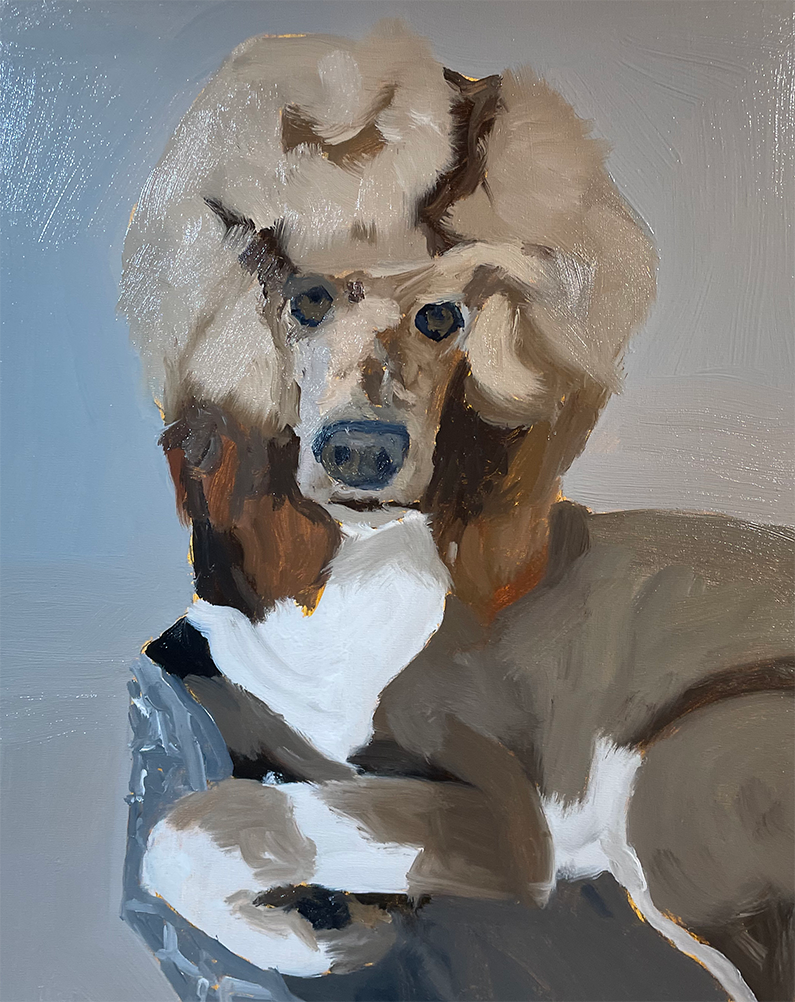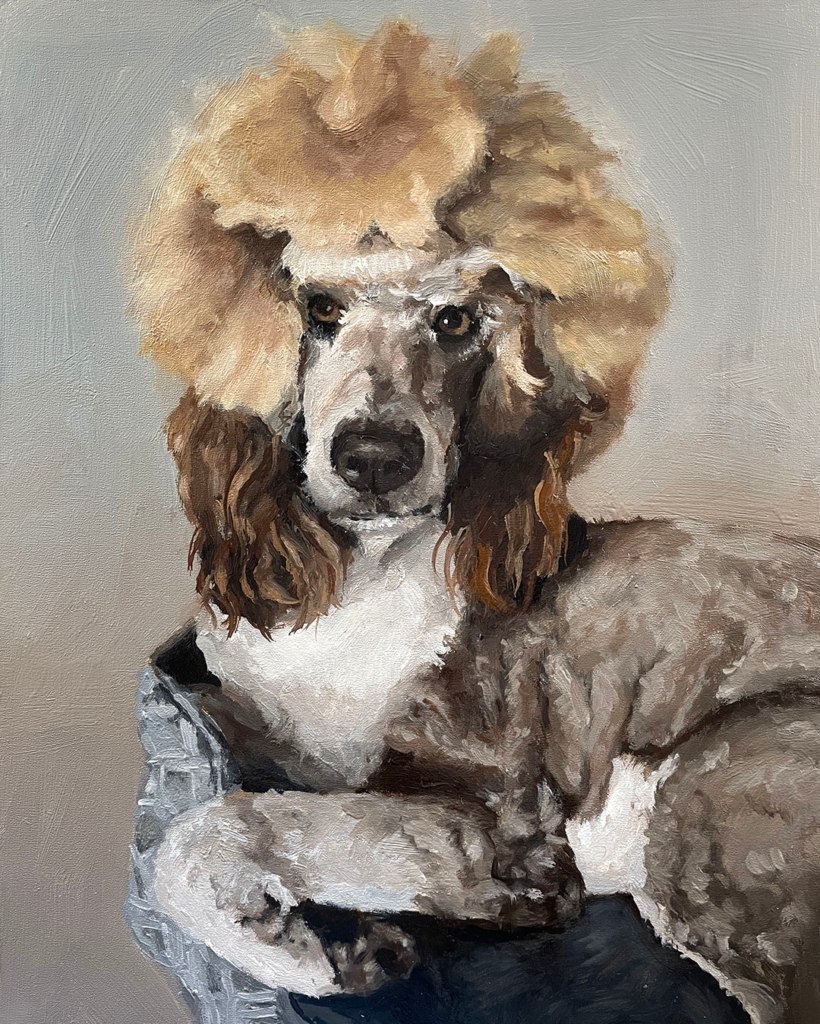 With commissions I paint "indirectly" as opposed to being a "direct" painter. An indirect painter builds the painting up in layers and lets different parts of the separate layers show through in the final piece. A direct painter paints in 1 layer and moves across the painting finishing it as they go much like a printer would. Neither is better than the other they are simply different technical approaches.
In the process photos above you can see the drastic transformation that happens over the course of an indirect painting. The line drawing looks nothing like Charlie! That's not actually a big deal. The line drawing is primarily about placement. A nice detailed drawing will do you no favors when you're covering it up with paint. All you need is a rough idea of where everything needs to be.
For Charlie's painting I really wanted to get blocked in as soon as possible so I could work on color relationships. Mainly I wanted to apply the same alternating warm and cool effect that I had achieved in my other painting of Watson. (You can read a little more about the effect on Watson's blog post).
The basic idea is that simple shapes made up of warm tones should be contrasted within a cool surrounding tone (and vice versa). What's so interesting about Charlie's picture is that his whole body looks primarily warm. Though upon closer inspection his body is comparatively cooler than the warmth of his head. This color relationship made the alternating effect possible. I pushed the effect a little further by exaggerating the blue color in the dog bed. It was not that blue in the orignal photo but the painting could handle it without losing any color harmony.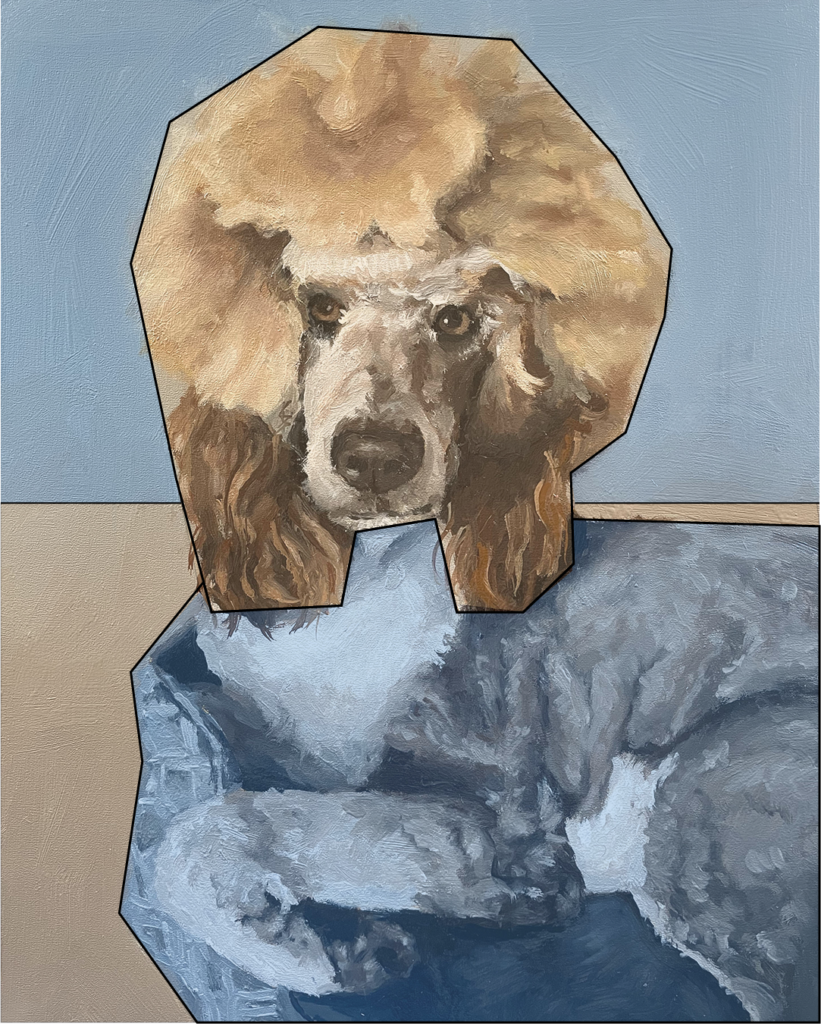 Receiving their Painting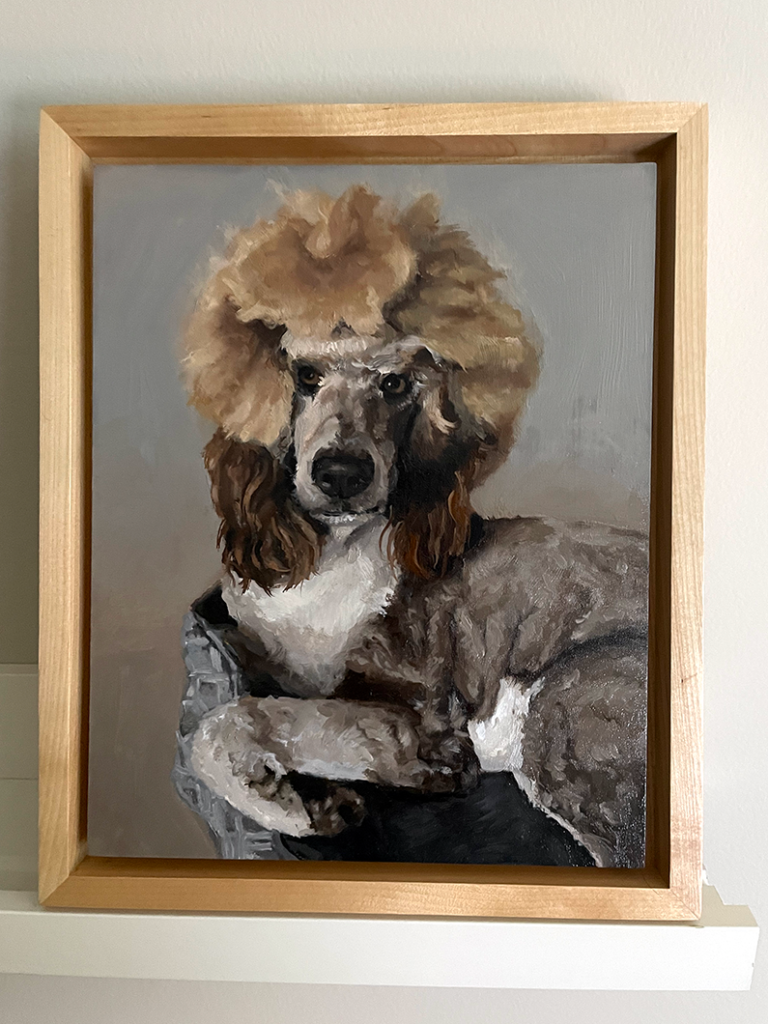 So after Charlie got a nice coat of protective varnish he was wrapped up and dropped off with one of the aforementioned friends. They held onto the package until it was time to present the gift to Lindsey. I included a handwritten note to Lindsey to reach out to me after she unwrapped the painting. I'm so glad she did because I didn't get to see her reaction when she received the painting. This is what she told me in an email:
Thank you for the beautiful oil painting of Charlie. As soon as I opened the painting I noticed his eyes and the expression on his face. It is perfect! I truly appreciate the time and attention to detail you spent on creating this portrait of Charlie!
I am so glad B reached out to you and commissioned this painting for me!

Lindsey
To see a detailed photograph of the final painting of Charlie, head over to my Portfolio or Click Here.
Want More Painting Progress Videos & Posts?
As I continue to practice, take new commissions, and even paint my own original work I plan to document as much of it as possible with new blog posts and videos. If you enjoyed this post I'd love to hear about it in the comments below, but just as importantly I hope you'll subscribe to my YouTube Channel and join my Email Newsletter to keep up with new content and important updates from The Norquist Studio.