Commission an Oil Painting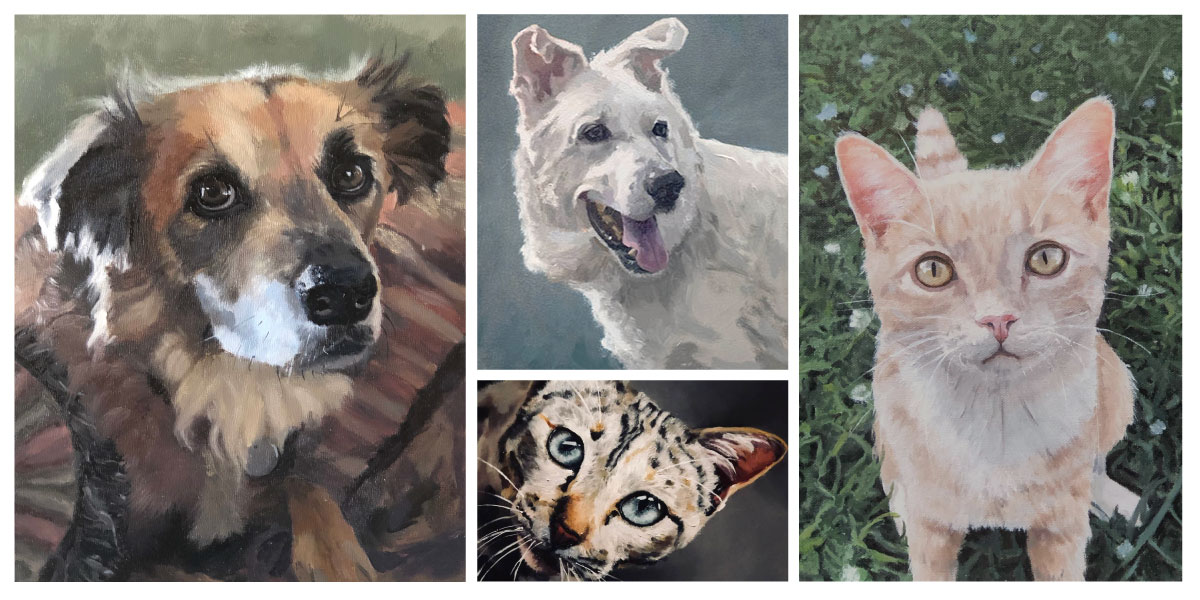 3 Portrait Types: Pets, People, People + Pets
2 Portrait Sizes: 8"x10" and 11"x14"
Original "Old-Master" style oil paintings
High-pigment, artist grade oil paints
On 3/4" ready-to-hang, warp-resistant panels
Average 35 day turnaround time
FREE shipping in the continental U.S.
Commissions are closed at this time
1. Complete the submission form
The submission form above provides me with everything I need to complete your painting(s). I will respond within 24 hours to confirm your request/payment has been received as well as when I expect to begin work on your painting(s).
2. Get weekly progress updates
You can expect to receive weekly updates on my progress (or your place in my painting queue if demand is high). It typically takes 35 days from the time I begin work on your painting until it's in your hands.
3. Receive your new oil painting
As soon as your commissioned painting is finished, dried, and packaged it is sent on its way–complete with a certificate of authenticity and a guide on how to frame and care for it.
How do you paint your portraits?
I hand paint every portrait with artist grade Gamblin oil paints. These paints are highly pigmented and resistant to fading. I paint on warp resistant MDF panels with a 3/4″ profile. These panels are ready to hang as is or can be framed.
How much do your paintings cost?
Prices are dependent on the size of the painting and how many subjects are included. You can see the costing breakdown in the commissions form above. I can provide a quote if you are looking for something specific that isn't listed. Just use the contact form below to let me know what you have in mind.
If I want multiple pets or people in the same painting, do they need to be in the same picture?
No. I can combine photos of pets or people so they're in the same painting. The photos will need to be similar in pose and lighting for best results and I will need a photo that shows their size comparison.
What forms of payment do you accept?
You can securely pay your invoice online instantly through Wave (my payment processor) using a credit card or secure bank payment (ACH).
Do you offer framing for your paintings?
No. The wood panels I use are ready to hang – as is – with no frame. But if you choose to have a frame, I specifically use panels that have a 3/4″ cradle so framing is still an option. Just bring your painting with you to your local craft or framing store and they will be able to help you out!
How much does shipping cost?
All shipping is free within the continental US. 
Do you ship internationally?
Yes. The shipping will be added to your order as costed from the regular postal service. There may be additional customs fees at the time of delivery. I have no way of anticipating these and therefore cannot provide the exact amount that will be due beforehand.
How long does it take to complete a painting?
I use traditional painting techniques similar to those used by the master artists of the 15th century. Because of these methods it can take up to 4 weeks to finish a painting. Please take this into account if you are requesting a comission. If you need the painting by a special date I can work with you to try and achieve that goal. 
Can I request changes to the painting before it's shipped?
Absolutely. After you see the final proof you can request as many reasonable changes as you need to until you are 100% satisfied for no additional charge.
Great work! She painted a portrait from a photo of my now deceased father, and it was worth every penny.
-Jeff Dubin
I was touched by your painting. Loved how you painted the picture. Brought out his kind warm loving soul. This will be a gift for someone who will really appreciate it. Thank you so much!
-Nelson Murakami
We received the picture of Toby and we love it! Thank you so much for your beautiful work. You are really very talented!
-Kathy Ma
Karla's work is so exceptional and realistic it truly defies the imagination. We are so pleased with the oils of our own pets that we commissioned Karla to paint portraits for two of our friends' pets as well. We cannot express enough positivity regarding our experiences with her. She is a very gifted artist with a talent she is willing to share at a genuinely affordable price. Our dog portraits are hung, with pride, double framed, in our living room.
-Susan Warfield
Our dog boys, George and Jack, are goofballs, a couple of clowns and comedians. At the same time they are the fearless defenders of our house and ravine. No matter that they defend us from deer, squirrels, cats and woodpeckers. And no matter that defense consists of rushing the windows screaming. There is still courage there and a kind of nobility. Karla Norquist captures that nobility in the gorgeous painting of the boys that she created for us. She has studied the old masters and you can see their influence in this subtle and wonderful creation.
-Joel Copeland
I couldn't be happier with this painting. The effects of shadow and light are so lifelike, it catches my breath every time I look at it. This painting always elicits admiration from visitors. Karla was so easy to work with, and from 2,000 miles away!  She is skillful and professional. I am very grateful for the end results: a stunning piece of artwork touching my mind and heart.  Thank you, Karla!
-Joni Larsen
I just adore how you mastered the sea of black, always a huge challenge in photography. My head tried to get around how you'd deal with it, but I couldn't picture it— such a delight to see the artistry! Silly detail, but I love how you captured May Belle's goofy little feet!
-Lillie Ruby
Karla was great! I had no idea what I wanted as a painting of Chief for my wife and she led me through the whole process – it was quick and very easy. The results were nothing short of spectacular! My wife LOVES her painting of her little Chief! Karla is talented beyond belief; I'll be back for another one, soon.
-Mark Ritzenthaler
Thank you for the beautiful oil painting of Charlie. As soon as I opened the painting I noticed his eyes and the expression on his face. It is perfect! I truly appreciate the time and attention to detail you spent on creating this portrait of Charlie!
-Lindsey Richards